About the Artist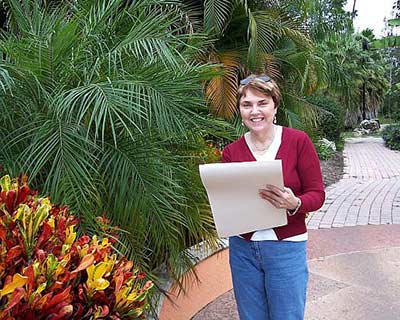 To restate an old saying, "With friends like mine, who could ask for anything more?"
It was on the suggestion of a friend (who called me after signing us both up!) that I took my first art class. I went in, saw a blank canvas, did my first painting and I haven't stopped. Classmates purchased my work and suggested I enter art shows. I naïvely applied, got accepted and started winning awards—even becoming featured artist.
With another friend, I went back to school for an art degree at the Center for Creative Studies in Detroit, Michigan. (When I walked in for the first time, I thought to myself, "I'm home.") While there, on the advice of still another friend, I combined my love for design and illustration, and graduated in both.
Then I worked for ad agencies as an art director/illustrator and saw my work appear in major newspapers, magazines, and television. It's a great feeling to see something you've done from start to finish appear "in print."
While at C.C.S., Children's Hospital of Michigan held their annual Christmas card competition and my painting of the "Teddy Bear Soldier" was chosen (this card's sales broke all records). The next year the jury chose my "Mother and Baby Teddy Bear" painting. (It sold out, too.)
During this time, I was internationally recognized for my over 4,000 pen-and-ink and watercolor commissioned illustrations. Both my commissioned and original art pieces have been featured a number of times on radio and television, in art shows, magazines, and newspaper articles.
My knowledge and love for homes grew out of the drafting skills I learned working for a construction firm. That's why I feel like I'm building homes and businesses on paper when I draw them.
My best friend, my husband, has a great love of boats and boating. He grew up around boats, as did our children. Whether sailing or power boating, the incredible beauty of being on the water will always be a part of our lives.
From our children's love and commitment to their horses, dogs, and cats, grew my own deep appreciation for "our extended family". They brought a special bond to us.
It's been pretty heady stuff for a woman who earlier majored in math and accounting.

Site Design
All of C. A. Sinclair's websites are designed and hosted by Sniglets, Inc.